Get Rid Of Lower Back Pain Naturally!
Introducing ExceHealth Belt – The Ultimate Relief For Sciatica & Lower Back Pain – designed to completely restore joint plasticity.
It supports the lower spine and hips, relieving pressure and stress caused by pelvic instability or Sacroiliac joint dysfunction.
Instant back pain relief

Effective support

Relieves sciatica

Relieves SI joint pain

Non-Slip design

Reduces the load on the joints in the pelvis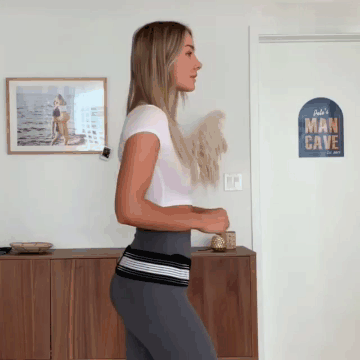 Why You Need This
A person suffering from back pain could easily become unable to either lift heavy objects or even operate heavy machinery and equipment where applying physical strength is important. If your back pain lasts longer than three months, it's considered chronic and may require a tailored treatment plan.

Relieves Lower Back Pain
Chronic lower back pain can manifest in simple daily tasks such as walking or even sleeping. And because of this, you may feel much older than you are.
SI Joint Dysfunction
The ExceHealth Lower Back Support Brace reduces and prevents any type of lower spine pain and SI joint dysfunction, as well as pains caused by pelvic sciatica. Providing targeted lower spine support to keep the hips and spine stable.
Relieves SI Joint Pain

This medical grade belt is designed to effectively stabilize and support your pelvis and hips. Simply the best solution for back pain, hip pain, pelvic pain, upper leg pain, symphysis pubis dysfunction, pelvic girdle pain, or piriformis syndrome.
Wearing the ExceHealth Lower Back Support Brace eliminates or significantly reduces the amount of your back pain. It creates compression and pressure that actually works against the stress levels in the lumbar region.
Skin-Friendly Fabric
You can wear them to work, around the house, or even go anywhere soothing during the day and protective comfort at night, so your sciatica pain is no longer a hindrance. You will surely love it after wearing it!
The smart design of this belt allows you to adjust the tightness, compression, and support to your preference. Simply adjust the two elastic tension straps and get a tighter or looser fit. The strong hook & loop closures are equipped with 'smart tabs' that make it super easy to unstick the straps.

Anti-Slip & Durable

The unique anti-slip material will make sure that your belt won't move around or ride up your hips. We also made sure to keep the material lightweight and durable. You will have no problem wearing this belt for longer periods of time. Comfortably wear it around the house, during sports, other activities, or even at night.

You Can Use It Anytime, Anywhere
When running, your pelvic joints and ligaments naturally shift and stretch, and can cause severe lower back, hip, and sciatic leg pain. The sacroiliac belt can provide protection and support for the pelvic structure.

When exercising, people are often discouraged by pain in the lower back or pelvis caused by the dysfunction of the sacroiliac joints. With the help of the Sacroiliac Belt, you can get a better exercise effect.

Long-term heavy work will cause muscle fatigue and even damage the body. The sacroiliac belt can be worn for a long time to relieve fatigue.
High-Quality Material
High Strength Material – The unique stretch material allows you to provide the necessary compression in the lower back. The belt comes in one size only and it's one-size-fits-all.
Reliable fixation – The belt is equipped with a strong velcro hook and loop mechanical grip to allow all-day wear without getting loosening.